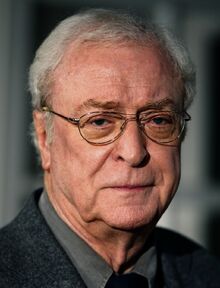 Sir Michael Caine, CBE (born March 14, 1933) is an English actor and author. Renowned for his distinctive working class cockney accent, Caine has appeared in over 115 films and is regarded as a British film icon.
Recent activity
[
]
Caine appeared in Christopher Nolan's science fiction thriller Inception as Prof. Stephen Miles, Cobb's (Leonardo DiCaprio) mentor and father-in-law. He voiced Finn McMissile in Pixar's 2011 film Cars 2 and also voiced a supporting role in the animation, Gnomeo & Juliet. He also starred in the 2012 film Journey 2: The Mysterious Island, as Josh Hutcherson's character's grandfather; the film also featured Dwayne Johnson and Vanessa Hudgens.
Caine reprised his role as Alfred Pennyworth in the Batman sequel, The Dark Knight Rises, which was released in July 2012. He appeared in Christopher Nolan's 2014 science-fiction film, Interstellar as Dr. Brand. Caine co-starred in Kingsman: The Secret Service (2015), by director Matthew Vaughn. He also appeared in the lead role of retired composer Fred Ballinger in the comedy-drama film Youth, for which he received widespread acclaim. In October 2015, Caine read Hans Christian Andersen's "Little Claus and Big Claus" for the children's fairytales app GivingTales in aid of UNICEF, together with Sir Roger Moore, Stephen Fry, Ewan McGregor, Dame Joan Collins, Joanna Lumley, David Walliams, Charlotte Rampling and Paul McKenna.