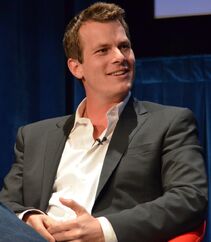 Jonathan "Jonah" Nolan (born 6 June 1976) is a British-American screenwriter, television producer, director and author. He has co-written several screenplays with his brother, filmmaker Christopher Nolan, including The Dark Knight, The Dark Knight Rises, and Interstellar, and his short story "Memento Mori" was the basis for Memento.
Early life
[
]
Nolan was raised in London and Chicago, and attended Georgetown University, where he majored in English and was a staff writer for The Hoya (the oldest and largest student newspaper of Georgetown University in Washington, D.C.).
Career
[
]
Nolan's short story "Memento Mori" was used by his elder brother as the basis for the critically acclaimed film Memento. Although Jonathan received a "based on a story by" credit, not a screenwriting credit, the brothers shared a nomination for the Academy Award for Best Writing (Original Screenplay) as the film was released before the story was published.
In 2005, Jonathan and Christopher co-wrote the screenplay for The Prestige, which is based on Christopher Priest's novel of the same title.
External links
[
]