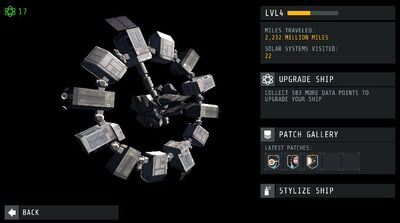 The
Interstellar Experience (game)
was a simulation game of the
Interstellar (movie)
. It was created and published by
Paramount Digital Entertainment
 on November 6th, 2014.
Originally available for download from the
App Store
,
Google Play Store
or the
Official Website
. (those links don't work anymore because the game has been shutdown and discontinued)
The gameplay allows you to create and customize your own unique solar system with planets, moons, asteroids and more. You can explore a universe of fan generated solar systems and black holes in the Interstellar experience. See how far you can pilot the Endurance without running out of fuel or losing time relative to Earth. Sling-shot through solar systems using real-world physics and gravitational forces. Use wormholes to jump to new systems and survive the ultimate challenge of traveling past a black hole.
Play on Phone or Tablet
Create your own solar system and share it with friends
Customize planets, stars and asteroids
Pilot the Endurance through friend's and other fan's solar systems
Upgrade your ship to increase durability and range
Earn mission patches for completing objectives
Based on Newtonian Physics with simulated gravitational fields endorsed by the movie's scientist adviser Kip Thorne
Slingshot between planets and return research data to Earth
Navigate past massive black holes
Specifications
Edit
Size
Price
Language
Platform(s)
IOS 7.0 or later
Android 4.0 and up
Mac OSX
Windows
Content Rating
Current Version
Release Date
Seller/Publisher
References
Edit
http://game.interstellarmovie.com/ https://itunes.apple.com/app/id792959268
https://play.google.com/store/apps/details?id=com.paramount.interstellar
Community content is available under
CC-BY-SA
unless otherwise noted.