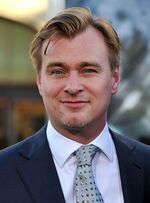 Christopher Jonathan James Nolan
(born 30 July 1970) is an English-American film director, screenwriter, and producer.
Having made his directorial debut with Following (1998), Nolan gained considerable attention for his second feature, Memento (2000). The acclaim of these independent films gave Nolan the opportunity to make the big-budget thriller Insomnia (2002), and the mystery drama The Prestige (2006). He found further popular and critical success with the The Dark Knight Trilogy (2005–2012), Inception (2010) and Interstellar.
Community content is available under
CC-BY-SA
unless otherwise noted.